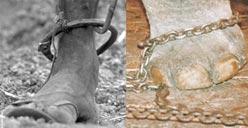 PETA

Just as it was always wrong to oppress and abuse less powerful humans, it is wrong to abuse and oppress animals. Because today's victims of tyranny are unable to defend themselves, it is vital that people of principle speak out for them.

This should outrage people. Think about that, PETA is comparing eating animals (which people do all over the world) to slavery. As sane people we should not just let them discredit the hardships that slaves had to face. Unless of course you do think that slaves were just animals....
I really don't like PETA.